The Northern Seminary eBook collection includes over 8,000 titles available via the EBSCOHost platform. CLICK HERE to search.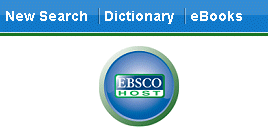 You can search and read these titles directly from the EBSCOHost interface. EBSCOHost also offers the capability to:
     – Download eBooks via Adobe Digital Editions (DE) software.
     – Upload eBooks to portable devices compatible with Adobe DE, including the iPhone and iPad.
Not every eBook offers a download option. Downloading an eBook "checks it out" for 7 days. Most eBooks can only be "checked out" by one person at a time.
eBook Tablet Help
eBook Windows/Mac Help
Additional instructions for uploading EBSCOHost eBooks to portable devices.
Do you need assistance locating library resources?
Call the front desk at (630) 620-2156 or email the library at library@seminary.edu.